Did you think that Moonlighting and the story of Maddie Hayes and David Addison came to an end back in the '80's? You couldn't be more wrong. It is true that Bruce Willis, Cybill Shepherd, and Glenn Gordon Caron have moved on to other things. But that does not mean that the loyal fans who stuck with them through repeats, short seasons, and plot twists that never had a chance to twist again are left with the same old reruns and run of the mill fanfiction. We here at the virtual production studio have picked up the banner and carried on with a virtual cast, a virtual crew, and this virtual network called the internet and we did it all for virtual pay (or should we say virtually NO pay?).
Yes, fellow Moonlighters, the spirit of Moonlighting lives. Virtual Season Six picked up the story from where it left off (or very nearly) and Annie was very quickly written out. (Don't let the door hit you on the way out.) Sam came back for a brief visit in Season Seven but we got rid of him too. Hooray. And Season Eight moved Maddie and David into new territory -- living together. We are now in the fourth virtual season – Virtual Nine – and Maddie and David are going strong. The virtual staff is proud of the work we have done. Not only can we come in on time and under budget every other week (something that the real show was not able to do), but we have created interesting and funny episodes for Maddie and David; cases that you would not believe and new guest characters every week. So keep clicking and check it out.
Oh yes, there is one thing you can do for us. We like ratings as much as the next guy, but Nielsen has yet to catch on to this virtual medium. You and you alone can tell the writers what you think. E-mail them directly or use the forum to voice your opinion. Welcome to the continuing story of Blue Moon.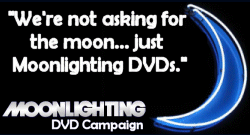 Feel free to steal our banner and post it on your site! (thanks Cindy!!)